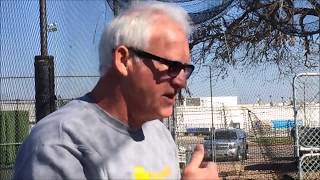 Make no mistake, the patented Rope Bat™ Swing Trainer is NOT a toy!  This total instructional and training system has been developed over years of study and analysis, followed by 18 months of testing.  Dr. Long perfected an uncomplicated hitting system, along with training tools, for baseball and softball players.  Made in the USA to the exact standards of the Better Baseball Texas* company, The Rope Bat™ Swing Trainer is the answer for those serious about the game and want to learn how to execute a swing to maximize centrifugal force with total body connected movement for greater speed, strength accuracy and consistency.  The hitter's body will remember what it has learned using The Rope Bat™ Swing Trainer and will then use that memory when he or she has a real bat in their hands!  Dr. Long's Rope Bat™ hitting system is currently used by professional players and coaches, as well as sandlot teams and rising stars in both baseball and softball.
The Rope Bat™ Hitting System 33   &   The Rope Bat™ Jr. 27″ Hitting System

Now that you have been introduced to the Rope Bat™ Swing Trainer, we invite you to learn about how we can help both baseball coaches and athletes.
As you explore our website, you will find:
Rope Bat™ Products: We have provided you with an introduction to the Rope Bat™ as well as specific, detailed information for each product, including tips to help you decide what would best fit your needs.
FAQs:  If you have any questions, you might want to visit our FAQs, where we have answered some of the questions that are most frequently asked about the Rope Bat™.
Cart: Our cart provides you with a secure area to purchase the Rope Bat™ products.  It will store the purchase selections you make and process your payment.
Video & Image Gallery:  We have a separate Video Gallery and an Image Gallery for you to review and enjoy.
Rope Bat™ Blog:  Join us on our Blog to learn more about Rope Bat™, and share in our commitment to improve the sport of baseball and softball for athletes of all ages, both professionals and amateurs, and their coaches.
In The News:  We have several diverse areas of news and information to share with you.  As news is forever changing, please check back frequently and we will keep you up to date with the latest news.
About:  Meet the people at Rope Bat™ and our key partners.  Learn why Rope Bat™ works and how to get started.  You might also enjoy reading our unique story of how and why the Rope Bat™ was invented by Dr. Long.
Contact:  Along with our telephone number, we have also provided an email form on our Contact page to make it easy for you contact us by email.  A team member will respond to your email as soon as possible.