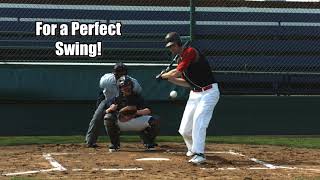 We are proud and excited to announce the new, improved Ultimate Rope Bat™ has arrived!  It is now available for you to see it, learn about it, and use it!  Right off the bat (yes, pun intended!), you will see and learn about the new features and you will probably notice a new, updated look!
Dr. Long has upgraded the Ultimate Rope Bat™ to a new level of perfection, making the original, uncomplicated hitting system even better and improving the training tools for both baseball and softball players of all ages.
The Ultimate Rope Bat™ improvements include:
The Ultimate Rope Bat™ is now a ONE SIZE FITS ALL! This redesign has taken a giant leap for hitters of all ages, from 5-year old beginners to 25-year old major leaguers.  Young hitters will never outgrow their Ultimate Rope Bat™, and it will be the only swing trainer they will ever need!
Hitters now only need to choke up to the correct number on the grip of the Ultimate Rope Bat™. That number should match the real length of the bat they will use.  The head of the Ultimate Rope Bat will be positioned 2-inches shorter than the real bat. This is designed to specifically match the "sweet spot" on the bat when hitting the ball.
A new moveable "O" ring is now attached to the grip, to give the hitter the feel of where they should choke up on a bat.
The new 12-inch grip allows hitters who use a 26-inch to a 34-inch real bat to place their hands exactly where they need to be on the bat.
Hitters can now use the Ultimate Rope Bat™ for short bat drills, as well one hand drills, by simply choking up to the appropriate bat length.
The Ultimate Rope Bat™ is the answer for those serious about the game and want to learn how to execute a swing to maximize centrifugal force with total body connected movement for greater speed, strength accuracy and consistency.  The hitter's body will remember what it learns using Ultimate Rope Bat™.  A hitter will then use that memory when he or she has a real bat in their hands!
Dr. Long's original Rope Bat™ hitting system has been in use by professional players and coaches, as well as sandlot teams and rising stars in both baseball and softball.  With the introduction of the Ultimate Rope Bat™ it is now growing to become known as the best and ultimate swing trainer among players and coaches.
Many thanks to all our customers, players and coaches, and friends who believed in us when we began our Rope Bat™ journey.  We now invite you to take a tour around our recently upgraded website to learn all about the new arrival, the Ultimate Rope Bat™.
The Ultimate Rope Bat™ Package includes:
The Ultimate Rope Bat™  /  Three (3) Smushballs  /  The Ultimate Rope Bat™ Hitting Guide  /  and The Rope Bat™ Sports/gear bag